The Radius: Maneuverable Sand Sifting Walk-Behind Sand Cleaner
---
The Radius is Barber's newest addition to its lineup of walk-behind sifting sand cleaners. It is ideal for removing small debris from sand in areas that require excellent maneuverability and thorough cleaning; such as, golf course bunkers, horse arenas, playgrounds, and private beach-front properties. It can remove various types and sized material, including glass, cigarette butts, pop-tops, trash, animal waste, shells, stones and wood.
---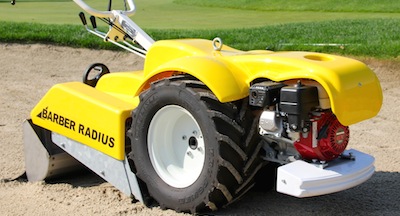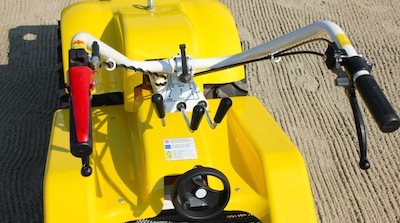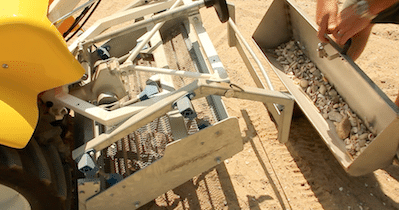 ---
The wheels are located in the center of the machine, making it ideal for tighter cornering and turning.
It comes with two interchangeable mesh screens (3/16" and 3/8"), which increases its versatility and allows fine tuning of the cleaning process. The frame and cleaning components are Hot Dip Galvanized for superior corrosion resistance and protection in sand and saltwater environments. The Radius also has a Honda 5.5 HP gasoline engine which is reliable, quiet, and meets all current pollution standards and noise restrictions.
---